Begin With Hunger
---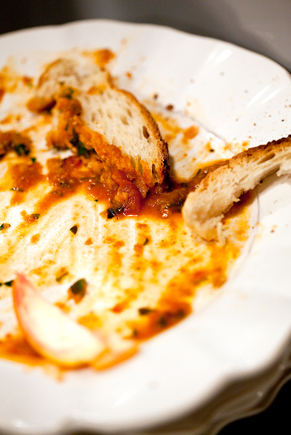 "A good meal ought to begin with hunger."
–a proverb, unfairly accredited to any person or culture in particular.

They say hunger is the best spice, an empty belly the best cook, and that a good meal ought to begin with hunger. It's when we are hungry that we're fit to eat well.

The same "they" also say that a fat kitchen makes a lean will. I've always liked cooking with constraints. I'm lost faced with endless possibilities—in a kitchen with everything I could ever want at my fingertips: every toasty nut and dark green olive oil, salt of every hue and size, nine wine vinegars and six kinds of citrus, saucepans ranging from tiny to gargantuan, four ovens with adjustable racks—I find myself wanting to sit down, open good wine, break off a piece of new bread, and dip it and my fingers into the exotic things around me, and just look and taste and smell. But give me hunger, salt, fat, fire, an oven that's too small and runs too hot, and I will cook happily.

The constraints of cooking in a restaurant can be good.

There is a great thrill to be had when, arm tensed shoulder to wrist, hand holding a blazing hot cast iron pan, you arrange a golden, roasted quail with whole stems of sizzled thyme peeking out of its delicate, stuffed middle; and though you did it while you were doing eight other things, and there seemed as good a chance the plate would end up broken on the floor because your hand was shaking with the weight and heat, none of that happened; instead the beautiful quail sits trembling in its perfection on a clean, heavy plate.

Then, your heart stops for a moment because you have made something, amid the clatter and rush that will feed someone's spirit. It is a life-affirming moment and it is part of why those of us who cook in restaurants do.

I don't cook in restaurants anymore. I cook professionally now for isolated events with good, solid, obstacles. A summer solstice meal I cooked last summer for 77 people needed thirty chickens roasted in an apartment kitchen.

I sometimes teach about cooking fish from healthy, sustainable fisheries, in a way that is healthy and sustainable for your kitchen—no grilling or pan frying, but salting and mixing with garlicky potatoes and olive oil to serve to a crowd with a lot of good toast; or braising in tomato for a stew that can be heated up for days.

If it is something that I may get stuck on: a photo shoot for one of my heroes, for which I'm so nervous I can't remember how to boil eggs, teaching cooking to children in a hot summer garden with no kitchen and no stove and no pots or pans, I will do it. Roasting a pig and making fragile heirloom tomato salads in a hurricane was the right speed, so that joined the ranks of recent meals I've cooked.

I will teach cooking to almost anyone that asks, and will create formal settings soon, so that I can do it more effectively.

Other than that, I like cooking meals at home, where the constraints are all my own: there are always beans and stale bread, I don't run out of salt or olive oil, there's always an herb somewhere, and anchovies and olives and a Parmesan rind. Not much else can be counted on, but being hungry.