---


In honor of the release, TODAY, of An Everlasting Meal: Cooking with Economy and Grace, the third of the videos I made of chapters of the book. This is the very first chapter, which I'll be reading tonight at the book release at BookCourt in Brooklyn at 7 pm about the most fundamental and important thing you can do in your kitchen: "How to Boil Water." You should come.

Enjoy! And pass it on…


---


Here's part 2 of the video I posted last week: "How to Stride Ahead: Part 1." It's a depiction of the nuts and bolts of roasting vegetables for the week, all at once, which is a much more efficient process than you'd think.

Enjoy! And pass it on…


---


"How to Stride Ahead" is the third chapter in An Everlasting Meal. It explains how convenient and good it is to roast vegetables simply, all at once, at the beginning of the week, and then turn them into great meals each day. Approaching vegetables like this makes buying decisions easy–as you shop, you can choose things that taste delicious roasted, and then as room temperature salads, soups, and side dishes. It makes it simple, on busy nights, not to have to begin from scratch, but still have wonderful vegetables, bought whole, as part of your meals, having "strode ahead" of your week's vegetable cooking.

Instead of  standard instructional videos, we wanted to illustrate the  essence of the strategies and mindsets in An Everlasting Meal, both to get you excited about reading it and get you excited about the conveniences and pleasures of the kitchen.

Enjoy the video. There are more to follow! Check in on Monday, October 10th for the next installment: How to Stride Ahead: Part 2.


---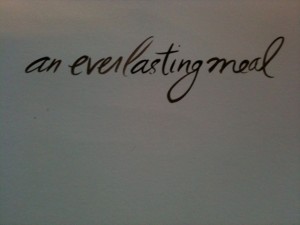 I've always found pantry basics lists misleading. First, they tacitly suggest that the right combination of ingredients aligned in your kitchen can be counted on to organize itself  into a meal; second, they imply that if you find yourself without balsamic vinegar, coconut milk, canned tomatoes, frozen English peas, couscous, and won-ton wrappers, you need to run to the store.
There's nothing you must have. There are, though, some things so useful that they're good to have (and tons of others that have good uses.) Here's my version. You don't need them all, but having one or two on hand makes it easy to have a good meal all the time.
It seems worth it to have a good piece of cured meat in the house. I find that a little square of the Italian bacon called pancetta makes a bitter greens, like dandelion or escarole with scrambled eggs on top seem very substantial. It's good thinly sliced, then sauteed over medium heat until it's crispy, then eggs cooked in that, then some of the leftover fat drizzled into a bowl of a little mustard and vinegar, for  a bacon-y dressing. It's also got great powers of suggestion: seeing a piece of pancetta in the refrigerator reminds me how good plain pasta with butter is with a almost crisp, fatty meat and lots of freshly ground black pepper. And the very end goes into a pot of soup.
"Good olive oil" is one of the bugbears of food writing. I keep a big bottle around of something I like the taste of. There's good sense to having two kinds—one for cooking vegetables and starting soups and sauce, and one for drizzling. I never do. I buy a very big bottle of one I really like. It seems expensive, but everything else can be simple, that I save money I'd spend on more ingredients, and time I'd spend making them. Potatoes, good, dark green broccoli, asparagus, little turnips, sweet carrots, all just get boiled and drizzled with good olive oil. Grilled bread just needs to be rubbed with garlic, get a liberal drizzle, and is a perfect first course.
A piece of Parmesan cheese on the rind is good. It's all it takes to improve canned beans, or or make a bowl of pasta into a version of the Roman classic caccio i pepe–as long as you have black pepper. It stays good forever, so even if you remember to use it once a month, it'll stay where it is. And its rind makes good soups great.
Kosher salt is inexpensive and comes in big boxes. It's what I use. It's good if you keep salt in a bowl, as I do, because its grains aren't as quick to get wet and packed when you get them anywhere near liquid as fine sea salt's are.
Red wine vinegar is useful for everything. One bottle is fine. There's a lot of pretty good vinegar, and a little really amazing vinegar, and I think the first category is all you need.
There's a a whole chapter in An Everlasting Meal about olives, capers, anchovies, and pickles. I feel strongly that if olive oil, salt, and vinegar are a lot of the backbone of a kitchen, those four things are vertebrae.
Equipment "must haves," seem to me more stress than comfort. I find it reassuring, when it comes to buying knives and pots and pans to take the suppositional understanding of "must." I say like Buddha "I must have what I do have." Then, I only buy anything new for the kitchen when I've so outgrown whatever equipment I've got that I feel the poor fit of tool-to-task every time I cook.
You can be less ascetic, but regardless, your mindset is the basis for any good cooking decision, and it's yours alone, and free, and it's what matters most.
---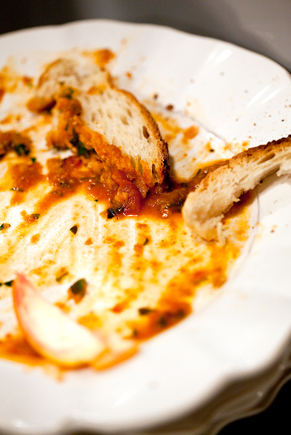 "A good meal ought to begin with hunger."
–a proverb, unfairly accredited to any person or culture in particular.

They say hunger is the best spice, an empty belly the best cook, and that a good meal ought to begin with hunger. It's when we are hungry that we're fit to eat well.

The same "they" also say that a fat kitchen makes a lean will. I've always liked cooking with constraints. I'm lost faced with endless possibilities—in a kitchen with everything I could ever want at my fingertips: every toasty nut and dark green olive oil, salt of every hue and size, nine wine vinegars and six kinds of citrus, saucepans ranging from tiny to gargantuan, four ovens with adjustable racks—I find myself wanting to sit down, open good wine, break off a piece of new bread, and dip it and my fingers into the exotic things around me, and just look and taste and smell. But give me hunger, salt, fat, fire, an oven that's too small and runs too hot, and I will cook happily.

The constraints of cooking in a restaurant can be good.

There is a great thrill to be had when, arm tensed shoulder to wrist, hand holding a blazing hot cast iron pan, you arrange a golden, roasted quail with whole stems of sizzled thyme peeking out of its delicate, stuffed middle; and though you did it while you were doing eight other things, and there seemed as good a chance the plate would end up broken on the floor because your hand was shaking with the weight and heat, none of that happened; instead the beautiful quail sits trembling in its perfection on a clean, heavy plate.

Then, your heart stops for a moment because you have made something, amid the clatter and rush that will feed someone's spirit. It is a life-affirming moment and it is part of why those of us who cook in restaurants do.

I don't cook in restaurants anymore. I cook professionally now for isolated events with good, solid, obstacles. A summer solstice meal I cooked last summer for 77 people needed thirty chickens roasted in an apartment kitchen.

I sometimes teach about cooking fish from healthy, sustainable fisheries, in a way that is healthy and sustainable for your kitchen—no grilling or pan frying, but salting and mixing with garlicky potatoes and olive oil to serve to a crowd with a lot of good toast; or braising in tomato for a stew that can be heated up for days.

If it is something that I may get stuck on: a photo shoot for one of my heroes, for which I'm so nervous I can't remember how to boil eggs, teaching cooking to children in a hot summer garden with no kitchen and no stove and no pots or pans, I will do it. Roasting a pig and making fragile heirloom tomato salads in a hurricane was the right speed, so that joined the ranks of recent meals I've cooked.

I will teach cooking to almost anyone that asks, and will create formal settings soon, so that I can do it more effectively.

Other than that, I like cooking meals at home, where the constraints are all my own: there are always beans and stale bread, I don't run out of salt or olive oil, there's always an herb somewhere, and anchovies and olives and a Parmesan rind. Not much else can be counted on, but being hungry.